4-30-07

Sales begin May 11, 2007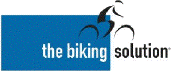 FOR IMMEDIATE RELEASE 

Contact:
Patrick VanHorn, Corporate Communications Manager, Giant Bicycle, Inc.
800/874-4268, ext 661
Deb Hubsmith, Coordinator, Safe Routes to School National Partnership
415/454-7430
Greg Brodsky, Managing Director, The Biking Solution
603/626-2147

Newbury Park, CA - Bicycle riders who believe that youngsters should be able to safely walk or ride bikes to school can now buy a special edition bicycle that will show that support and help fund the Safe Routes to School National Partnership at the same time. 

Giant Bicycle, Inc., The Biking Solution, and the Safe Routes to School National Partnership have joined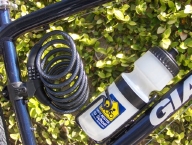 forces to create a Special Edition Cypress DX bicycle that sports key features highlighting the Safe Routes  to School program. The Giant-designed and built aluminum frame bicycle is accented on the top tube with the "Safe Routes to School National Partnership" logo. The logo is also prominently featured on a water bottle that comes with the bicycle. And the bike's chain stays are highlighted with the saferoutespartnership.org web address, which provides complete details of the Safe Routes to School National Partnership mission. The bike also features a cable lock and a tail-light, and is outfitted with a seat bag containing tire levers and a patch kit.

For every Special Edition Cypress DX sold, $20 will be donated to the Safe Routes to School National Partnership. Safe Routes to School is an international movement that helps communities create safe, convenient and fun opportunities for children to bike and walk to school. Since 1969, the percentage of children who bike or walk to school has dropped from 50 percent to less than 15 percent--and the percentage of youngsters overweight or obese has more than tripled from 8 percent to 30 percent.

Skip Hess, president of Giant Bicycle, Inc. serves on the board of directors of the non-profit Bikes Belong Coalition, an association of bicycle suppliers and retailers working together to put more people on bicycles more often. Bikes Belong is a top sponsor of the Safe Routes partnership, and its foundation branch administers the program. Of the Safe Routes to School effort, Hess said, "There are few things more important than keeping our kids safe. Getting them to school and back safely and helping them get some exercise along the way is a goal everyone can get behind. We've been a strong supporter of Bikes Belong for years so our work with Safe Routes to School is a natural evolution of that partnership."

Safe Routes to School provides a variety of important benefits to kids and their communities, including improved health, reduced traffic congestion, better air quality, and enhanced neighborhood safety. "By producing a special bicycle that supports the Safe Routes to School National Partnership, Giant is helping to make U.S. children stronger and healthier," said Deb Hubsmith, Coordinator for the Safe Routes to School National Partnership.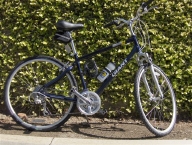 The Special Edition Cypress DX bicycles are available only through Giant bicycle retailers partnered with The Biking Solution, a company that works with bike shop owners to help them maximize their businesses. "You know, everyone talks about the need to get out and do more to get people on bikes, but not so many people are taking action," said Greg Brodsky, Managing Director of The Biking Solution. "Our Safe Routes to School bike will create excitement in-store, deliver a fantastic product to the consumer, and generate funding and awareness for an important cause."

"We're very grateful that these Giant retailers are helping support Safe Routes to School," added Giant Bicycle, Inc. president Skip Hess. "These are independent bicycle dealers who live and work-and send their own kids to schools-in communities where the Safe Routes program can make a difference."

The Safe Routes to School Special Edition Cypress Giant bicycle will be available for a limited time in a wide range of sizes and in both men's and women's models. The following Giant Bicycle retailers will carry the bicycles beginning May 11:


GIANT BICYCLE RETAILERS CARRYING THE SAFE ROUTES
TO SCHOOL SPECIAL EDITION CYPRESS BICYCLE

Bay Area Schwinn, 2049 S. Richey, Pasadena, TX, 713-472-6651
Bay Area Schwinn, 16864 Hwy. 3, Webster, TX, 281-332-6433
BGI North 4130 E. 82nd St., Indianapolis, IN, 317-842-4140 x 591
BGI South 997 East County Line Rd, Greenwood, IN, 317-885-7194
Bicycle World 2990 Jog Road, Lake Worth, FL, 561-439-5020
Big Earl's Bike Shop 8552 Old Turnpike Road, Mifflinburg, PA, 570-966-4992
Coates Cyclery 760 E. Foothill Blvd., Pomona, CA, 909-624-0612
Derby Bicycle Center 410 East 104th Avenue, Thornton, CO, 303-288-4100
East Providence Cycles 414 Warren Avenue, East Providence, RI, 401-434-3838
Gorham Bike & Ski 1440 Congress Street, Portland, ME, 207-773-1700
Mack Cycle & Fitness 5995 Sunset Drive, South Miami, FL, 305-661-8363
Martins Bike Shop 1891 Division Highway, Ephrata, PA, 717-354-9127
Marty's Cycle Center 453 Avon Belden Rd. Unit A, Avon Lake, OH, 440-933-4204
Pedal Power Bike & Ski 176 Great Road Acton MA 01720 978-263-3197
Pioneer Cycle 12741 Central Ave. Ne, Minneapolis, MN, 763-755-8871
Plaine's Bike Ski Snowboard 55 West Housatonic Street, Pittsfield, MA, 413-499-0294
Redmond Cycle, 16205 Redmond Way, Redmond, WA, 425-885-6363
Russell's Cycling & Fitness. 10 Valley Forge Plaza, Washington, IL, 309-444-2098
Santos Trailhead Bicycle Shop, 8900 S. US Highway 441 #20, Ocala, FL, 352-307-2453
Sports Center Bicycles 1576 Del Monte Blvd., Seaside, CA, 831-899-1300
Tom's Bicycles 6861 South Peoria Avenue, Tulsa, OK, 918-481-1818
Tommy's Bicycle & Fitness 40 East Main St, Torrington, CT, 860-482-3571
Two Wheels One Planet 420 E. 17th St, Costa Mesa, CA, 949-646-7717
Two Wheels One Planet 24844 Muirlands Blvd, Lake Forest, CA, 949-581-8900
Village Bike Shop 450-A Baldwin St., Jenison, MI, 616-493-6791
Village Bike Shop 4252 Kalamazoo Avenue, S.E., Grand Rapids, MI, 616-493-6792
Village Bike Shop 5278 Plainfield Ave. NE, Grand Rapids, MI, 616-493-6793
Village Bike Shop 2844 Thornapple River Dr, Cascade, MI, 616-493-6794