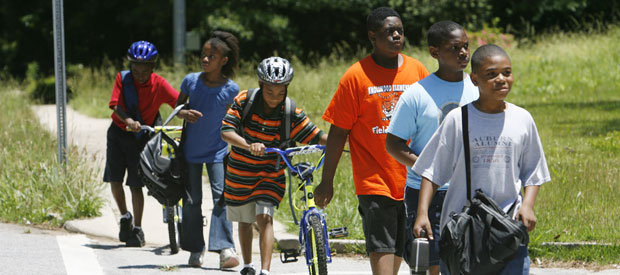 Safe Routes to School Submit a Story
Help us expand the Safe Routes Partnership website and its library of resources. Your local and state success stories will be an important tool for organizations, cities, schools and individuals looking to build Safe Routes to School programs.
Thank you for sharing your work, so that others don't have to reinvent the wheel! Click here for sample stories.
Please cut and paste the following questions into an email and provide answers where relevant. You may also send separate case study or success story documents as attachments. Send completed surveys, documents and/or photos to info@saferoutespartnership.org.
Your name, email, phone number and state.
Your organization name and website address, if applicable.
What schools/community does your Safe Routes to School program serve?
When did you get started and what helped to launch the program?
Describe your Safe Routes to School program in general.
Describe how your program addresses the Five E's:

Evaluation
Education
Encouragement
Engineering
Enforcement

Describe a favorite Safe Routes to School success story.
How much federal funding have you received (if any) and for what?
What has that funding helped you implement?
What other ride/walk programs do you organize outside the federal funding?
Who are your champions?
How have your school(s) and city worked together?
Does your Safe Routes to School program have an official affiliation with the school (through a wellness council, PTA, etc.)?
What else should we know about your program?
Can we include information about your program on our website with you and/or another representative of your organization as the contact person?
If photos are available, please send one group shot and one close up. For all submitted photos with close-ups of children, we ask that you complete and send a copy of the Safe Routes Partnership's photo waiver.