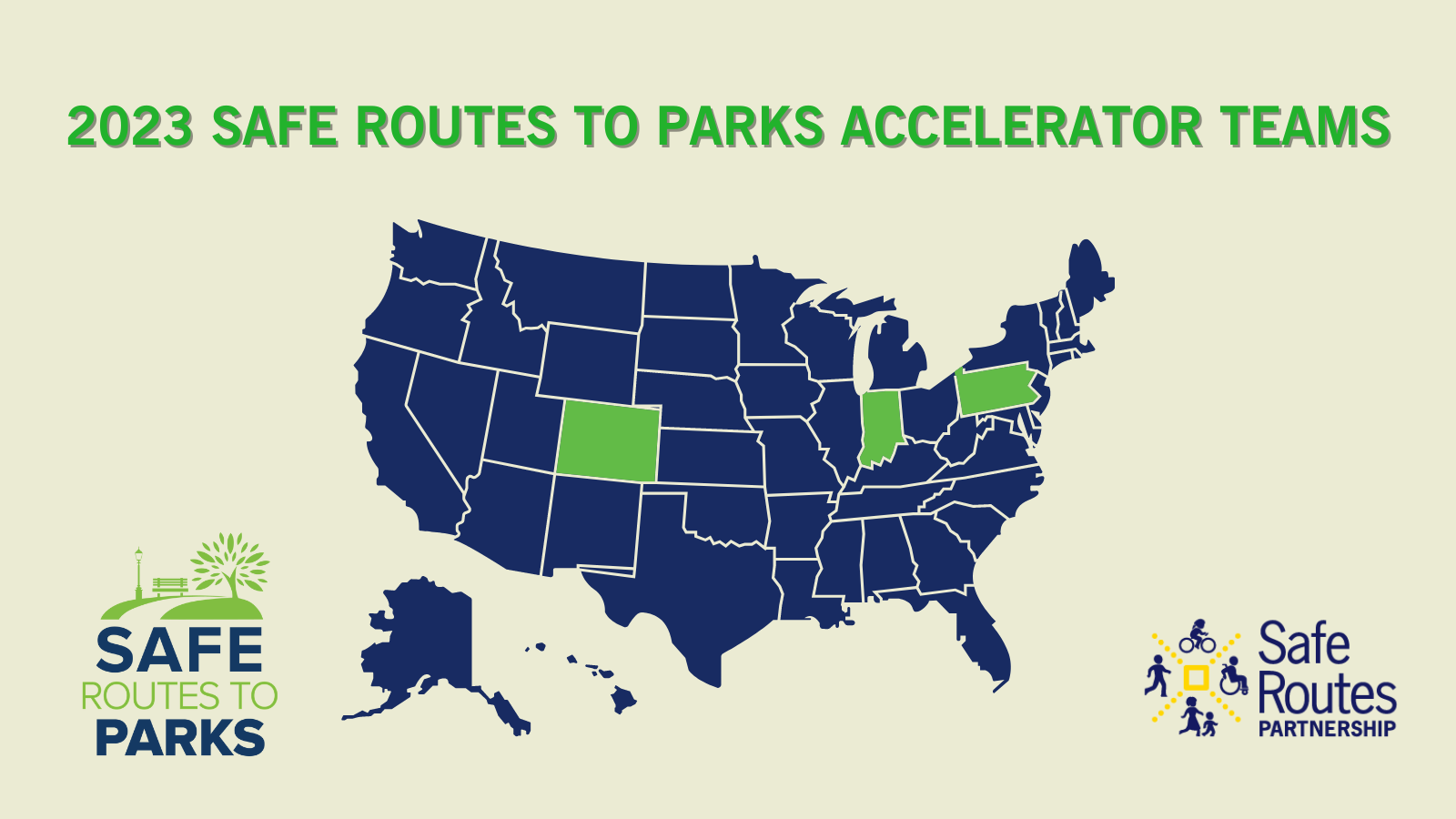 After a competitive application process, Safe Routes Partnership is excited to announce that multi-agency teams from Colorado, Indiana, and Pennsylvania have been selected to participate in the Safe Routes to Parks Accelerator! These states' applications stood out for their creative approaches and commitment to improving safe, convenient, and equitable walking and biking to parks and open spaces throughout their states.
The Safe Routes to Parks accelerator is a technical assistance program designed to help teams of staff from states' departments of transportation, health, and natural resources collaborate to improve safe, convenient, and equitable walking and biking routes to parks and open spaces. Over 12 months, Safe Routes Partnership will provide consulting services customized to support each state team. Some objectives that the teams will work on include:
Build lasting, productive working relationships between state agencies to support safe access to everyday destinations.
Identify mechanisms to reflect local priorities in state plans and programs
Craft messaging that works best to frame Safe Routes to Parks to potential partners and decision-makers.
Maximize the opportunities of existing state funding and staff capacity to support park access and identify opportunities and models for expanding on those existing resources.  
This program is built on the success of the Safe Routes to Parks Activating Communities program. Since 2017, Safe Routes Partnership has worked with community-based organizations to engage their communities and government agencies, assess park access needs, write Safe Routes to Parks plans, and kick off implementation with early actions from those plans. The Safe Routes to Parks Accelerator is a new state-level approach to shaping systems that can better support local park access and effectively use funding available at the state and federal levels.
This year's Safe Routes to Parks Accelerator cohort is made up of leaders who are ready to: transform the way they work with other departments and agencies, try new approaches for high-impact, equitable processes, and center local community needs. All three states have engaged with active transportation, equity, and park access, and Safe Routes Partnership is excited to support them as they take that work to the next level.
Colorado has been making exciting steps in the past few years on collaborative initiatives to increase access to universally accessible playgrounds, support equitable engagement, and invest in safety and active transportation projects on main streets in communities across the state. They are eager to address park access and physical activity disparities while building cross-agency collaboration.
Indiana will build on a long-standing collaboration between the departments of health, transportation, and natural resources. To date, their partnership has supported 50 active living workshops in communities across the state to create local active transportation plans. They aim to connect existing funding to cross-agency projects.
Pennsylvania has committed to building a Safe Routes to Parks program in its Statewide Comprehensive Outdoor Recreation Plan, which they look forward to operationalizing through this program in partnership with the department of transportation and public health department. The team is excited to build on the momentum of the department of health's successful WalkWorks program, which helps municipal entities develop active transportation plans and policies.
This program will serve as an opportunity to pilot state-level strategies to support local park access and refine tools and best practices for other states to apply. We will share updates and resources on our blog and e-news, so stay tuned!